Atari 2600 Homecomputer (Compumate)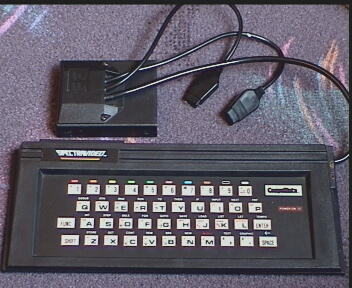 | | |
| --- | --- |
| Manufacturer: | Spectravision, in Germany Universum (Quelle) |
| Model | Compumate Atari 2600 Homecomputer |
| Released: | 1984?? |
| Production ends: | ? |
| Processor | (6507 from Atari 2600) |
| Mhz: | (1,19 from Atari 2600) |
| RAM: | 1750 Byte |
| ROM: | 16 KB |
| Operating Systems: | Basic (in ROM) |
| Data Medium: | Tape |
| Graphic: | 40x40 |
| Colors: | 8 from 256 |
| Sound: | 2 Channel, 2 Octaves, mono |
| Ports: | Tape (EAR/MIC) |
| Keyboard: | 42 Keys, QWERTY |
| Sold in: | worldwide |
| Launch price: | 99,50 DEM |
| Specials: | Homecomputer-Expansion for Atari 2600, Drawingprogram and Synthesizer onboard |
| Got own one from: | Auction DEM 215,- |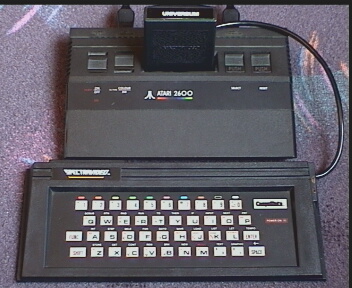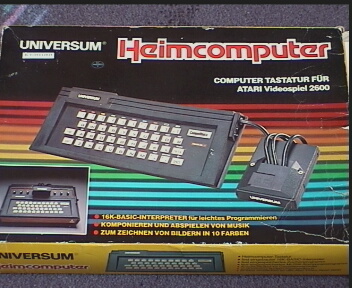 With the Compumate Homecomputer-Expansion, the Atari 2600 was upgraded to an complete Homecomputer with Tapedrive-Support and Basicinterpreter. All Tapedrives with EAR/MIC-Port could be used to save Programs, Pictures and Sounds to tape and load from it. A 16 KB Basic Interpreter, a Drawingprogram and a Synthesizer was build in the ROM. So, Music and Pictures could be build with easy instructions. With the Synthesizer and the Keyboard the Compumate could be used as an Keyboardsynthesizer.

The Homecomputer-Expansion was connected through the Cartridgeslot and the both Joystickport with the Atari 2600. So no Joysticks could be used.

In Germany the Compumate was selled from Quelle under the houseown Universum-Sign.

Every collector with such an item can be lucky. It is very rare!